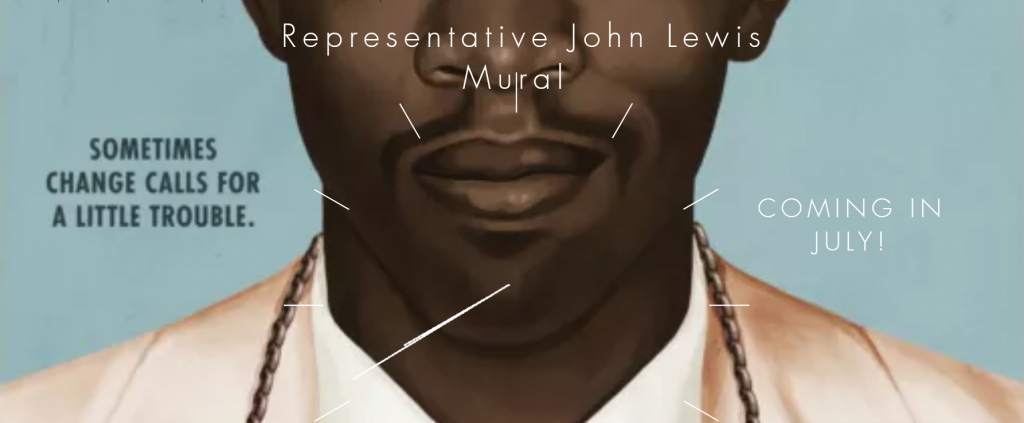 The late Representative John Lewis spent the entirety of his life fighting for social justice and equality. Up until the moment of his passing, he was championing those that came behind him to join in the fight, a fight that began while he was a student at Fisk University and American Baptist College. He was the chairman of the Student Nonviolent Coordinating Committee (SNCC) and trained the students that initiated the national Woolworth's sit-ins, and led the march over the Edmund Pettus Bridge in Selma, Alabama on "Bloody Sunday". He was a man of purpose, quiet strength and dignity in the face of turmoil.
To commemorate the life of Representative Lewis, we are erecting a mural on the corner of 5th Avenue and Commerce St. The mural will be five stories tall. A grand statement to his legacy here in Nashville.
Four individuals have been selected to create this work. Each is an established artist within the Nashville art scene, and brings a unique perspective. Their names are Lakesha Moore, Herb Williams, Omari Booker and Joseph 'DoughJoe' Love, III. Biographies and samples of their work are here.
Our goal is to have the mural completed by July 2021 to coincide with the official unveiling of Representative John Lewis Way (5th Avenue). All contributions can be made through The Community Foundation of Middle Tennessee's Nashville Unites Fund and are tax deductible. At the completion of the piece, a plaque will be placed that features the artists names, as well as our patrons. We hope that plaque will include your name.
Thank you!
Representative John Lewis Mural Committee Members
Councilwoman Joy Styles – Chair, Jens Fredericksen, Phyllis Qualls, Crissy Cassetty, State Rep. Vincent Dixie, Paula Roberts, Alfred Degrafinreid, Ashley Bergeron
---